Weekly Newsletter Subscription
Τα Δελτία Μουσικής Πληροφόρησης αποτελούν έναν νέο θεσμό. Πρόκειται για ηλεκτρονικά Δελτία που αποστέλλονται κατά τακτά διαστήματα μέσω e-mail και θα περιλαμβάνουν σταχυολόγηση αξιόλογων μουσικών συμβάντων.
Αποδέκτης του Δελτίου Μουσικής Πληροφόρησης μπορεί να γίνει οποιοσδήποτε κάνοντας εγγραφή μέσω του ιστότοπου στον κατάλογο αποδεκτών.
Weekly newsletter free subscription

GREEK HIP-HOP
Michalis Mytakidis (Active Member)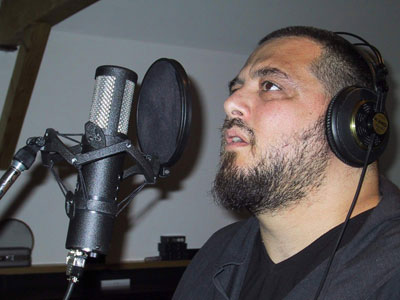 "I grew up with what we called "karekla". Up to the time when the American station, which transmitted from the base here, "burned" my brain and then, around '78-'79, I listened to Sugarhill and Kurtis Blow for the first time. From then on, I started to look for it...A friend of mine brought an American videotape. It was "Wild Style". It was played in America in '82 and here it was played once in Sineac in '83. The first rappers were in there, the first graffiti writers, dancing groups. It was a milestone movie...".

Kostis Kourmentalas (FF.C.) "...I started through breakdance. From the neighborhoods, when it was strictly for fun. At some point, around '85-'86, I saw a movie, "Hip-Hop history", which played a great part and then I saw "Beat Street", a historical film, which set things straight and defined the pure facts."

Michalis Mytakidis "I think we rapped early on due to necessity! Since '83, with Zea's dancing group in Piraeus, we had been playing music on a little tape-recorder and rapped onto that music so that we could dance. I remember in '84, when we all contributed to buy a drum machine, we didn't even know how to use it, and we made a couple of beats to rap. The next time we had a DJ as well..."


Where was hip-hop played?
From its early days to this day there hasn't been a concert facility or club that housed hip-hop exclusively. Hip-hopers gathered in parks and squares. A wall for graffiti and free space to breakdance was all that was needed. Greek hip-hop, it seems, especially in its first steps was the ultimate street music. However, since the 1990s, places like An Club, Rodon Live and others have held hip-hop concerts but are not considered hip-hop clubs.

The 1990s
Michalis Mytakidis "In Public Enemy's concert in Katrakio, Nikaia in 1992, that's where I think it all started, not only for Active Member but for the whole hip-hop scene. We went there not only to see Public Enemy, but also to meet the guys that we'd heard did stuff. That's where I met Dimitris MCD, our DJ. That's where Active Member began. Other groups too, I think. A concert is always a good motive".

The bands
With the exception of FF.C. that came together in 1987, other known groups of this scene like Active Member, Going Through, Terror ex Crew, Imiskoubria, Nevma, Zondani Nekri, Razastarr, Alpha Gama, and others were created after 1990. Most of them are active today. Newer groups, whose work is assisted by Active Member, are Babylona, Antiterra, Parakseni Taxidiotes, and others.
Hip-hop lyrics
Lyrics are a very important issue in hip-hop songs. The songs' texts are long. The theme, especially in Greek hip-hop, usually revolves around social and political issues with an evident tendency to dispute and rebel. That may be due to the fact that Greek hip-hop, especially in the 1990s, didn't become so commercial in order to adopt more sales-oriented themes.
In the last few years, however, some groups have teamed up with folk singers and included themes concerning infidelity, money, etc.

Basic hip-hop elements
Hip-hop culture is based on four elements: The DJ (Disc Jockey), the MC (Master of Ceremony), Graffiti and Breakdance.

Culture unity under hip-hop
Hip-hop developed into a worldwide phenomenon, existent from Albania and Palestine as far as India and South Africa. Greek hip-hopers were not indifferent to the challenge of cooperation with musicians from different cultures.
Michalis Mytakidis "We try to make contact with every European hip-hoper who is political. We made a song on the prison in Guantanamo, which features hip-hopers from Italy, an emigrant from the Republic of Côte d'Ivoire who lives in Paris, a Turk who lives in Germany hunted by the Grey Wolves (Bozkurtlar) and others. We try to make contact. They are the minority, but a strong minority none the less".